HOME > DETAILS
1. Overview of Off-grid New Energy Business & Office System
Most of the power consumption time of commercial and office places is in the daytime. By erecting PV power generation system, the PV power generation in the daytime can be effectively utilized to directly supply power for shopping malls and enterprises; Match with energy storage battery for charging and discharging, ensure normal power supply at night and other weather, and provide stable, environmental friendly and cheap power supply for enterprises.
(1) Schematic Diagram of Off-grid PV Power Generation System

(2) Composition of Off-grid PV Power Generation System
Off-grid PV power generation system is mainly composed of solar module array, PV off-grid inverter, battery pack, control cabinet, bracket and other equipment. Customized design can be carried out according to the user's actual load situation and energy access mode to realize the access of utility power, diesel generator and other energy sources, forming a multi-energy hybrid power supply system.
The system is mainly used in the commercial and office areas where there is no electricity, power is unstable and electricity price is high. The roof of the building is used to install the power generation system to realize the power supply of light storage or multi-energy hybrid power supply, so as to meet the needs of the owner of electricity saving and stable power consumption.
(3) Load Type of Off-grid PV System:
2. Advantages of Off-grid PV Commercial & Office Power Generation System

(1) To meet the power demand of enterprises and shopping malls owners and ensure the continuous and stable power supply.
(2) Generate long-term power generation income and reduce the cost of commercial power consumption in high price regions.
Taking the Goba commercial roof project in Nigeria as an example, the project is equipped with 1MW PV and 1mwh lithium iron phosphate energy storage battery, including diesel generator control and energy management system, with an estimated investment of 6.7 million yuan. The energy storage ensures that the mall can support for more than 2 days in extreme weather with only batteries. The annual power generation of the project is about 1.82 million KWH. Based on the local commercial electricity price of USD 0.115/KWH, the investment cost will be recovered in 4.56 years on the basis of ensuring the normal operation and full consumption of power generation in the shopping mall. If the diesel generator is used for power generation in the shopping mall when the utility power outage, the recovery period can be further shortened.
① The project is a one-time investment with a short payback period and enjoys stable income of more than 25 years.
② Use the idle market roof or office building roof for construction, do not occupy commercial land resources, and activate idle assets.
③ There is no noise and pollution in the power generation process.
3. Legend of Off-grid PV Commercial & Office Applications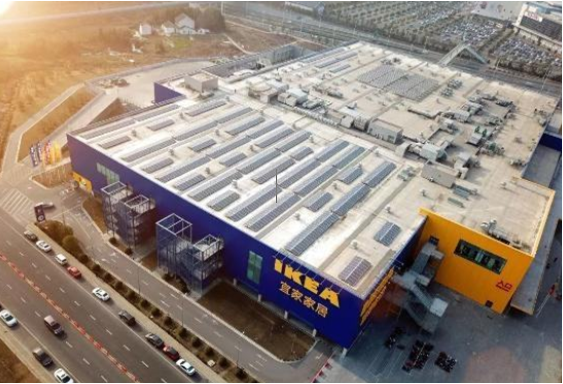 IKEA Commercial Off-grid PV System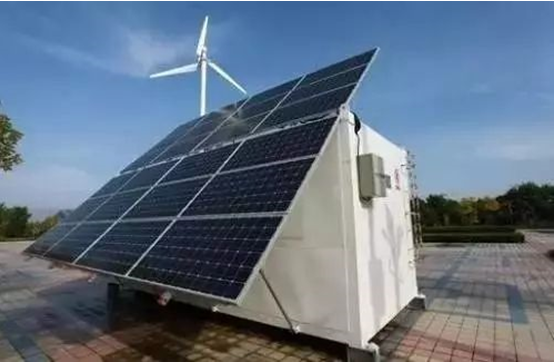 Small Office Off-grid System with Wind & Solar Hybrid