HOME > DETAILS
It is an important direction for the development of modern agriculture to combine PV with traditional agriculture and apply solar power generation to modern agricultural planting, breeding, irrigation, pest control and other fields.
In the field of off-grid PV, PV water pumping system and PV insecticidal system are the most typical off-grid PV agricultural applications, which have been widely used in many countries and regions.
1. Overview of Off-grid PV Pumping System
PV water pumping system is widely used in countries and regions with no electricity and underdeveloped power grid. It uses PV modules to convert solar energy into direct current, which is converted by the inverter and output ac to drive the pump motor to pump water. It lifts the water source from the low water level to the reservoir or canal or pipe of the high water level, realizing automatic water intake.
(1) Off-grid PV Pumping System Schematic Diagram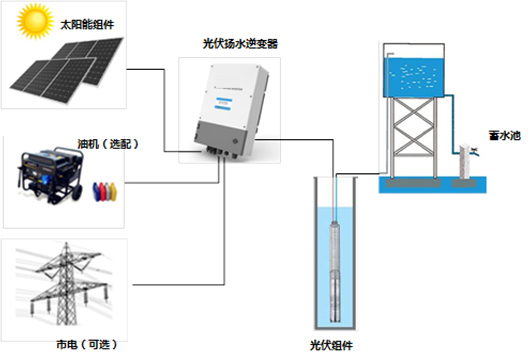 PV pumping system is mainly composed of PV pumping inverter, water pump and solar array.
2. Overview of Off-grid PV Insecticidal System
PV insecticidal system is the most mature and convenient technology in pest control technology. The system uses the phototaxis of insects to set the preferred wavelength and intensity of pests, lures pests to the vicinity of lamps, and uses high voltage electricity to kill pests. The use of PV power generation plus battery technology to kill insects, without the need to lay transmission lines, in a low-cost, pollution-free way to increase crop production.
(1) Off-grid PV Insecticidal System Schematic Diagram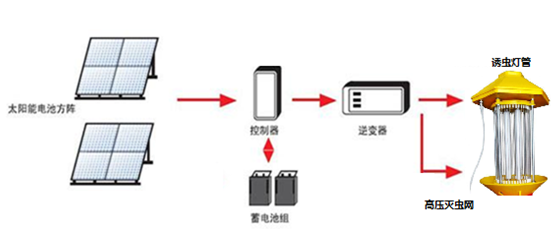 The PV insecticidal system mainly consists of PV modules, controllers, off-grid inverters, batteries, lamp poles, lamp tubes, power grids and insect traps.
3. Off-grid PV Agricultural System Applications
(1) Off-grid PV Pumping System Applications
PV water pumping system is energy saving, environmental protection, economic and practical, and is mainly used for human water, livestock drinking water, farmland irrigation, desert management, urban landscape water and other occasions.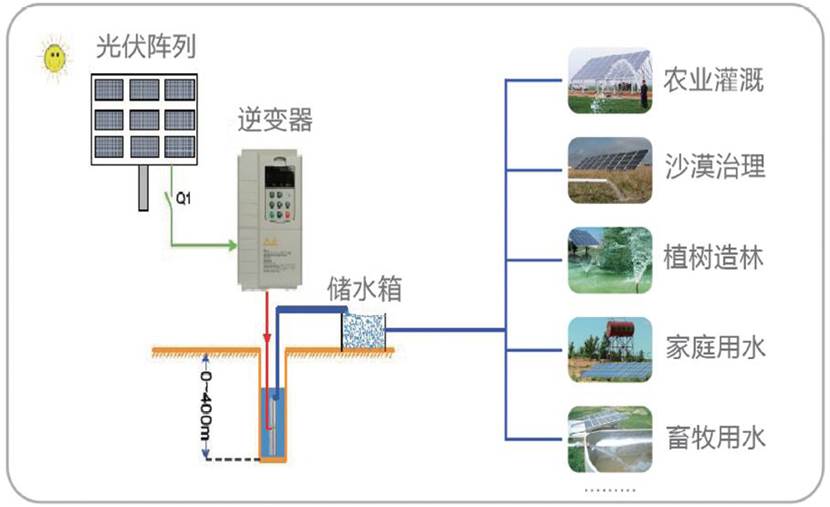 (2) Examples of Off-grid PV Pumping System

PV Pumping System for Agricultural Irrigation
(3) Examples of Off-grid PV Insecticidal System

PV Farmland Insecticidal Lamp

PV Attractions, Park Insecticidal Lights
4. Advantages of Off-grid PV Agriculture System
(1) Advantages of Off-grid PV Pumping System
Compared with the traditional way of carrying water, PV water pumping system has the characteristics of wide application, customization, energy saving and environmental protection, no maintenance, economy and money saving, especially suitable for areas with water shortage and power shortage.
① Extensive application: the system is widely used in various regions without power grid or underdeveloped power grid, and it is the optimal water intake scheme.
② Customizable: the system can be customized according to the user's water consumption, water lift, use scenarios, etc., to match a variety of needs.
③ Energy saving and environmental protection: the system USES pollution-free sunshine energy in the whole process, and there is no pollution in the process of carrying water.
④ Saving money: PV pumping system requires no power access and no electricity erection cost. Compared with oil-driven pumps, PV pumping system's average water price is lower. Take 3KW as an example, the cost of PV system per cubic meter of water is about 1/2 to 1/3 of the cost of oil-driven pumps.
(2) Advantages of Off-grid PV Insecticidal System
① Intelligent operation: the system runs automatically according to the day and night, and adjusts the working state according to the environmental humidity, without manual duty.
② Environmental protection and health: reduce the use of pesticides in large areas and reduce pesticide residues in agricultural products.
③ Reduce insecticidal cost: save pesticide dosage and human spraying cost, and the insecticidal effect is remarkable.
Our company is committed to the research of new energy scenarios. Boyang has an independent solution design team and standardized solutions in various scenarios. At the same time, we can provide customers with better prices and more reliable new energy power supply solutions.