HOME > DETAILS
1. Overview of Grid-connected PV Winter Garden System
Winter garden is a bright and unconventional building built with glass and metal frame. With the technical development of new energy generation and building materials, the combination of PV and winter garden has become a development trend.
(1) Grid-connected PV Winter Garden Power Generation Schematic Diagram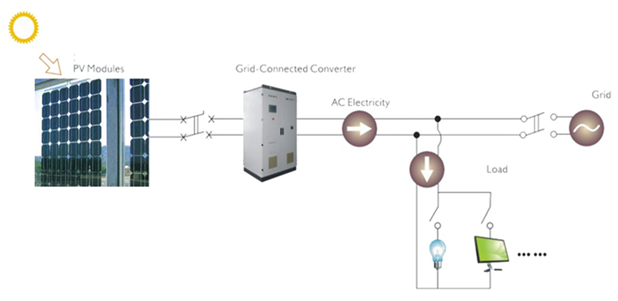 2. Application Scope of PV Winter Garden
The courtyard, garden, villa flat roof, building terrace, etc of user's residence can be installed.
According to the scene and location of the PV winter garden, it can be divided into: courtyard type, terrace type, garden type, sealed balcony type and so on.
Classification according to main materials: steel structure, aluminum structure, wood structure, composite structure, etc.
(1) Application Scene
Courtyard Type

Terrace Type


Garden Type

Sealed Balcony Type


Advantages of Grid-connected PV Winter Garden System

(1) Compared with the traditional winter garden, the PV winter garden can be enjoyed for living and activity space, while provide electricity generation income, which makes more efficient use of the space.
(2) PV modules can effectively reduce the room temperature and noise, bringing a more comfortable living experience.
(3) It can be designed and installed according to the actual site and style preferences to meet the customized needs of different people.
(4) Investment advantages: take the terrace type as an example, the winter garden is about 50 square meters. Its columns, doors, windows, waterproof, toughened glass facade, construction and other things need to invest about 100,000 RMB. For the construction of PV winter garden, about 5kW PV equipment can be laid at 50 square meters. Only about 20,000 RMB of additional investment is needed for the top PV part, which can bring the electricity income for up to 25 years. About 6,000 KWH of clean electricity could be generated annually.
Our company is committed to the research of new energy scenarios. Boyang has an independent solution design team and standardized solutions in various scenarios. At the same time, we can provide customers with better prices and more reliable new energy power supply solutions.