HOME > DETAILS
1. Overview of Grid-connected PV Shed System
Except laying on the ground, factory roof and housing roof, the PV system can also be combined with various kinds of shading and protection shed. Such applications are the easiest way to combine PV and architecture.
Through installing PV modules on the top of the greenhouses and corridors, the secondary development and utilization of land and space resources can be realized, effectively blocking the sunlight to reduce the temperature, generating uninterrupted green electricity and obtaining long-term power benefits.
(1) Grid-connected PV Shed Power Generation Schematic Diagram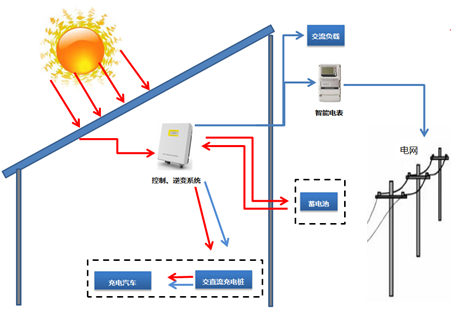 The battery, car charging equipment, etc. can be configured according to the actual application scenarios.
2. Application Scope of PV Shed
As long as the load bearing on the top of the building meets the requirements, the PV shed can be applied to all the shading and protection of the building surface. Common scenes include PV car shed, PV corridor, PV greenhouse, etc.
PV parking sheds are mainly used in parking lots of large logistics bases, shopping malls, industrial and commercial parks, enterprises, institutions, and single courtyard. PV corridor is mainly used in pedestrian corridors of scenic spots, parks, industrial and commercial parks, enterprises and institutions. PV greenhouses are mainly used in various modern agricultural greenhouses. It is combined with the original planting greenhouses to obtain grid-connected electricity benefits by carrying PV modules, while providing power for plant growth lights and temperature and humidity control equipment in the greenhouses.
(1) Application Scene
Courtyard Single Parking Sheds

Logistics, Commercial Parking & Charging Parking Sheds

Enterprises, Institutions Parking & Charging Parking Sheds


Scenic Spots Corridors

Industrial & Commercial Park Corridors

Greenhouse

3. Advantages of Grid-connected PV Shed System

(1) PV Parking Shed
Traditional parking shed is widely used in industrial and commercial parks, government and enterprise offices, public places, families and other scenes. Because of its convenient construction, excellent protection for vehicles, small floor area, low investment, aesthetics, practicality and other characteristics, parking shed has become the best solution for the ground parking lot.
PV modules are set up on the basis of the original steel structure and color steel tile shed, and the construction cost is effectively reduced by combining the module support with the shed support structure. Compared with the common structure shed, the construction cost of PV shed only has little change. It has a long power generation life, can recover the construction cost in the short term, and gain economic benefits in the long term. In addition, the PV system has good shading and cooling effect, effectively solve the problem of high temperature inside the vehicle. We can also set up batteries, charging piles, etc. for peak and valley period power supply adjustment and electric car charging to maximize economic benefits.
(2) PV Corridor
Traditional corridors are used in scenic spots, parks, enterprise parks and public places to facilitate pedestrians. By combining PV with traditional corridors, PV corridor can provide electricity to the equipment (such as lighting system, water spraying system, etc.), and the surplus electricity can also be sold on the grid to obtain economic benefits. PV corridor is in line with the concept of low carbon economy and environmental protection. It has both aesthetic properties and can enhance the senses and influence of parks and scenic spots.
(3) PV Greenhouse
Greenhouses have been used in the field of modern agriculture for a long time to provide suitable growing conditions for special crops. By setting up PV system on the top of agricultural greenhouses, it can provide power for various environmental devices in traditional greenhouses, so as to control the room temperature and promote the development of ecological agriculture. In addition, PV greenhouses do not occupy the original arable land area, using limited space to create additional electricity revenue.
Our company is committed to the research of new energy scenarios. Boyang has an independent solution design team and standardized solutions in various scenarios. At the same time, we can provide customers with better prices and more reliable new energy power supply solutions.