HOME > DETAILS
1. Overview of PV Household On-grid System
PV household grid connected system refers to the PV modules placed on the top floor or yard of the home, through small power inverter or micro inverter, to convert PV DC power into low-voltage AC power for residents. It is connected with the main switch of the distribution box in the user's residence nearby, and the generated power is for self-use. The unused power can be incorporated into the power grid, which will be uniformly allocated by the power grid and enjoy the income from electricity sales.
The large-scale PV power station has strong terrain limitation, and this kind of household PV power generation system has been widely promoted in many countries in the world with its flexible and convenient installation mode and small investment cost. In many countries and regions, the government has given PV users preferential subsidy policies for electricity sales and low interest rate long-term construction loans, so as to promote more families to understand and use PV.
PV household system is an important way of solar energy utilization in the future. The system is mainly composed of solar module array, series grid connected inverter and grid connected metering box.
(1) Composition Diagram of PV Household Grid-connected System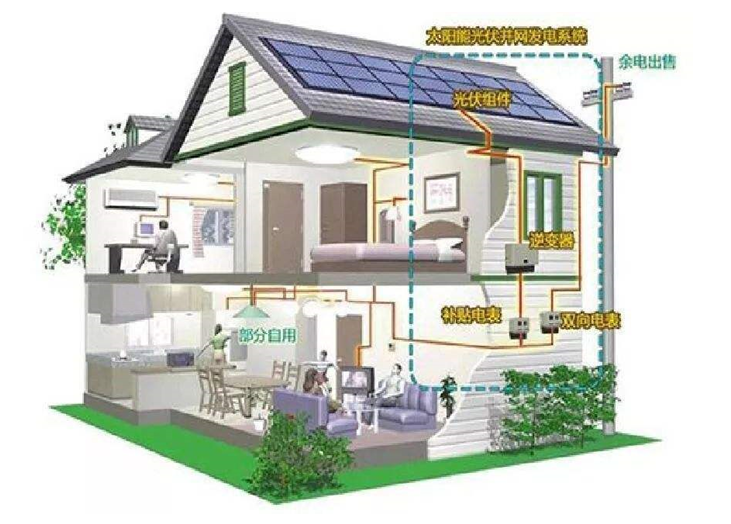 (2) Application Scope of PV Household Grid Connected System

The system is mainly applied to the roof of low-rise civil buildings or single family courtyard.
(3) Application Case
Household Grid-connected System with Inclined Roof

Household Grid-connected System with Flat Roof
2. Advantages of PV Household Grid-connected System

(1) Good thermal insulation effect in summer: PV power station is built on the roof, which is equivalent to building an extra layer of thermal insulation tile on the roof. It can effectively reduce the indoor temperature of 3-5 degrees.
(2) Low investment threshold: small scale, low investment, general users can also install.
(3) Enjoy the 25-year electricity sales revenue: the life of PV power generation system is very long, like a long-term fixed asset investment, users can enjoy the revenue from long-term electricity sales after installing the system. It only takes 5-6 years to invest in household PV power plants in China to realize cost recovery, and the latter 20 years is a long-term generation revenue period.
(4) The installation is convenient and does not occupy resources: the roof type PV power station is built on the roof and does not occupy any land resources; The system can be installed in different ways according to the shape of the roof and its bearing capacity.
Our company is committed to the research of new energy scenarios. Boyang has an independent solution design team and standardized solutions in various scenarios. At the same time, we can provide customers with better prices and more reliable new energy power supply solutions.